"If there is no copying, how are you going to have fashion?"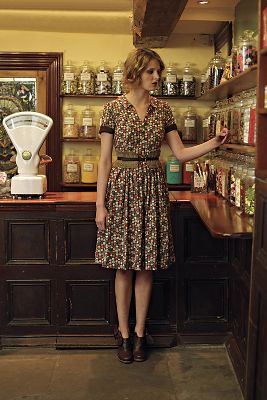 but upon trying it on, I encountered one disappointment after another.
Aside from the fact that I'd hoped the colors would be a little more vibrant and was a bit confused about whether it was meant to have a peter pan or stand-up collar,
I kept wondering,
How can such a beautiful dress fit me so poorly?

Granted, I do have a rather androgynous shape in...ahem...key places, but come on, work with me here!
I even tried on several dresses in the same size, hoping it was just some kind of bodice malfunction.
But no, it simply didn't work on me...sigh..
Then, one day, as I was ho-humming my way past 400 uninspiring aisles of GO COLTS! anti-pill fleece at Joann Fabric's, I spotted this fabric tucked demurly in an obscure corner...
My eyes bugged out so far, I may have actually suffered retinal detachment.
The colors were brilliant, the fabric design, just short of whimsical, and shoot, I think it actually sang.
No disappointment here.
And so, with $24 dollars and a few hours of my time and effort, the Indian Summer dress was born (and it fits perfectly).
My initial sketch
And, of course, my very, very favorite aspect of this dress--
the KRISTINA J. label on the inside!!!
So, what do you think? Does it work as a nice alternative to the original, or not?
I guess it's gonna have to work for me, 'cuz she's all I've got!